Download the eBook to discover how to create a holistic approach to establishing business partnerships to deliver business solutions.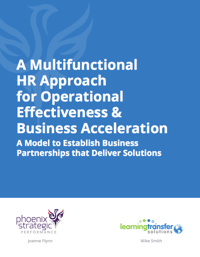 This 24-page eBook covers a variety of strategic HR topics with actionable takeaways including:

HR as a Business Accelerator

Where is HR's Seat at the Table?



Key Motivators for Employees

How Human Resources Functions Have Evolved

The Current State of Learning Transfer

3 Ways to Improve Your Organization's HR Metrics

How to Lead & Turbo Charge Your Change Process


Simply fill in your information to access your complimentary digital copy of the eBook.