Human Capital is one of your organization's key assets, and one of the necessary parts of the performance puzzle needed to ensure successful business outcomes.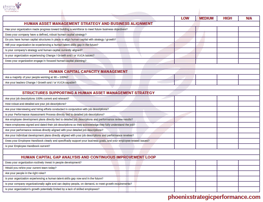 What critical organizational issues should you consider as you optimize the process of managing human capital?

Download our recent Human Capital Checklist, which highlights critical issues for your organization to regularly evaluate, including:

Human Asset Management Strategy and Business Alignment

Human Capital Capacity Management

Structures Supporting a Human Asset Management Strategy

Human Capital Gap Analysis and Continuous Improvement Loop

Simply fill in your information to download your digital copy of the checklist.