Human Capital is one of an organization's key assets, and one of the necessary parts of the performance puzzle needed to ensure successful business outcomes.

So what critical organizational issues should you consider as you move your organization through this important process of managing human capital?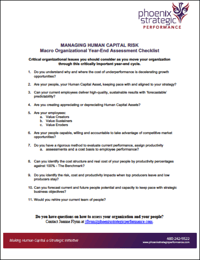 Download our latest "Managing Human Capital Risk" checklist, which highlights critical human capital issues for your organization, including:


Do you understand why and where the cost of underperformance is decelerating growth opportunities?

Are you creating appreciating or depreciating Human Capital Assets?

Would you rehire your current team of people?

And more!


Simply fill in your information to download your digital copy of the checklist.