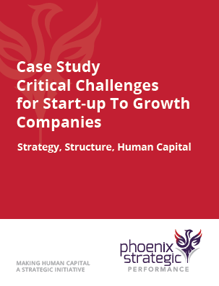 Download the case study to learn about the strategy, structure and human capital challenges this start-up company went through during its first 24 months including:
Leadership: What happens when a leader can't get out of his or her own way?

Organization Structure: What are the pros and cons of an organization chart and defined roles?

Culture: What needs to happen to a company's culture as the organization grows?

Matrix Management: What are some of the pitfalls to be aware of when aspiring to be a matrix organization?
Simply fill in your information to access your complimentary digital copy of the case study.