Risk Management & Human Asset Management Strategy
Meeting the 2020 workforce challenges requires organizations to strategically focus on the real importance of people as one of their most important assets. That strategic Human Capital focus requires a Human Asset Management Strategy approach.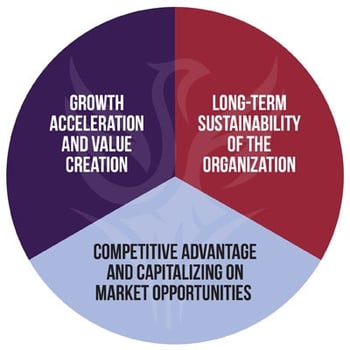 Why is Strategic Human Capital Different?
Strategic Human Capital focuses on the dynamic issues of human capital relative to an organization's present and future strategic business demands of:
growth acceleration and value creation
competitive advantage and capitalizing on market opportunities
long-term sustainability of the organization
Strategic Human Capital aligns people with corporate strategy to ensure continual, future-focused Human Capital capacity. When Human Capital doesn't pace with either strategy or change, this alignment can unravel creating a strategic organizational gap.
PHOENIX STRATEGIC PERFORMANCE MODEL (PSP)© DELIVERS:
Organizational Human Capital Risk Management Assessment©


Organization Structure Review and Recommendations to Improve Performance


Human Asset Management Strategy Development to Drive Growth©


Sales Team Analysis and Recommendations for Maximum Revenue Generation and Growth Acceleration©


Marketing and Sales Strategy Assessment for Sales Alignment and Business Optimization©


IT Business Alignment Model© and Human Capital Analysis for Robust IT Partnerships


How can we help you?
If your organization is ready to meet the today's Strategic Human Capital challenges, but you are not ready to hire a full-time Strategic Human Capital professional, our team of highly qualified advisors can help you through this transition process.
As you grow, we can continue with you as an outsourced advisor, coach and develop current staff professionals, or help you hire the right professional to continue with your Human Asset Management Strategy.


Simply fill out the form to request more information on our Strategic HR Advisory & Implementation Services.