Would you build a house without a sturdy foundation? When I speak with start-up-to-growth companies about how they value robust organizational structures, the first response is typically, "We don't want to introduce anything into our organization that makes us look like big, old-fashioned companies."

I can understand their sentiment; however, by simply dismissing anything that appears to be 'big company focused,' you eliminate fundamental best practices that work for all organizations. The trick is to introduce the best practices that create an excellent structural foundation without introducing the additional layers of bureaucracy that can negatively encumber a start-up-to-growth company. So how do you manage the proper balance?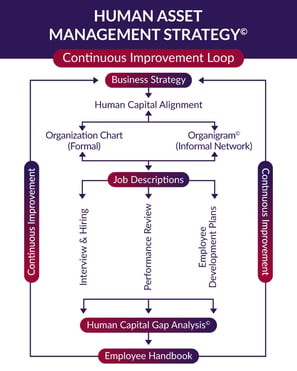 Here are 6 Organizational Structures Your Company Can No Longer Do Without
Step 1: A CURRENT ORGANIZATION CHART
Every organization with more than five people needs an organization chart. The organizational chart captures how the organization is structured, who reports to whom, and who is functionally responsible and accountable for each task. When a company is small, people often wear many hats. They are busy doing a lot of different things but likely not responsible for specific functions. A company without an organization chart is potentially an entity that is busy but chaotic and focused on getting things done now with a potential accountability gap.


Step 2: ORGANIGRAM©
If an organization has an organization chart, how current is it? In a start-up-to-growth company, things change so rapidly that the organization chart can become obsolete every few months. It must be continually reviewed and updated to reflect the current business environment. In addition to a traditional organization chart, you need to enhance it with a robust organigram that describes how the organization works. An organigram captures the informal way an organization operates. Who interacts with whom across the hierarchy lines of an organization chart? While an organization chart looks organized, an organigram looks like spaghetti with multiple lines crossing the entire organization chart. The organigram addresses this response: "Here is the organization chart, but let me tell you how it really works around here."
Step 3: JOB DESCRIPTIONS – THE 4 R'S - REAL, ROBUST, RELEVANT & REVIEWED
What are the real uses for job descriptions? Job descriptions are foundational pillars that help define what people do. Job descriptions define jobs and functions along accountability lines when used in conjunction with the organization chart and the organigram. Job descriptions should be specific and detailed enough to truly describe the job. Employees should sign and date a job description to demonstrate that they understand what is expected of them. Doing this eliminates the statement every manager does not want to hear from their employee, "I didn't know that was my job."

In addition to HR, job descriptions need to be in the hands of managers and employees and not only in the HR department. HR is not responsible for getting the work done. Managers and employees are.

Real, robust, and relevant - job descriptions are dynamic and strategic and must be continually reviewed to ensure they stay current and relevant to strategic goals. When they are done well, your organization should use them for the following organizational functions:
Interviewing & Hiring
Performance Review
Employee Development Plans
Human Capital Gap Analysis for Retention Planning

Step 4: EMPLOYEE HANDBOOK – KEEPING THE ORGANIZATION LEGAL, FAIR & MANAGEABLE
Once robust job descriptions have been created and monitored for relevance, you need to review your current Employee Handbook to ensure the following:
All existing policies align and work with any policy-related issues connected with robust job descriptions and their multiple uses.


All policies are detailed and specific so that they can be useful to both managers and employees. Any ambiguity in the handbook will make policy enforcement extremely difficult. In addition, ambiguity can allow managers and employees to interpret policies subjectively and introduce fairness and, therefore, a legal issue that negates the policies articulated in the handbook.
Step 5: A HUMAN CAPITAL GAP ANALYSIS PROGRAM TO ASSESS YOUR HUMAN ASSET MANAGEMENT STRATEGY©
Once you have taken the time to create an organization chart, an organigram, robust job descriptions with multiple uses, and a relevant employee handbook, assess your employees to ensure that their skills stay aligned with your corporate strategy. Then, these structures and processes provide you with current employee data, which can be analyzed and used to assess your Human Asset Management Strategy (HAMS)©.

These structures will allow you to align your people data with your business strategy and elevate the dynamic process of managing employees to a robust Human Asset Management Strategy.

With a robust gap analysis, you will stay ahead of any potential talent gaps in your organization.

Step 6: REINFORCE WITH A CONTINUOUS HUMAN CAPITAL IMPROVEMENT LOOP
Review all business and employee information quarterly since change occurs so quickly - things change before we know it.

Always remember to continually review, evaluate, and recalibrate a working Continuous Human Capital Improvement Process.
We invite you to download our eBook: "Human Asset Management Strategy: A New Approach," to discover the critical steps to developing a robust strategy for your organization. You can also schedule a complimentary assessment with a member of our team.