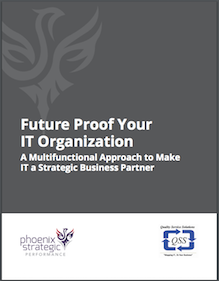 Have you asked yourself the basic question, "Does your organization value IT as a good investment?" To help answer this question and others, we have developed an eBook with one of our strategic partners, Quality Service Solutions, Future Proof your It Organization.
THE HOLISTIC IT ALIGNMENT OF STRUCTURE, PROCESS AND PEOPLE
For decades, boards, corporate executives and IT directors have sought evidence that IT investments generate business value. Unfortunately, business executives continue to find the link between investments in IT and specific business benefits something of a mystery. Yet, IT executives often assume the link is obvious.
This eBook sets out a new approach that enables enterprises to:
Construct a trail of evidence leading from measures of business value to indicators of the contribution made by both the IT function and each professional within IT
Gauge the readiness of their organizations' human capital to add value in the future