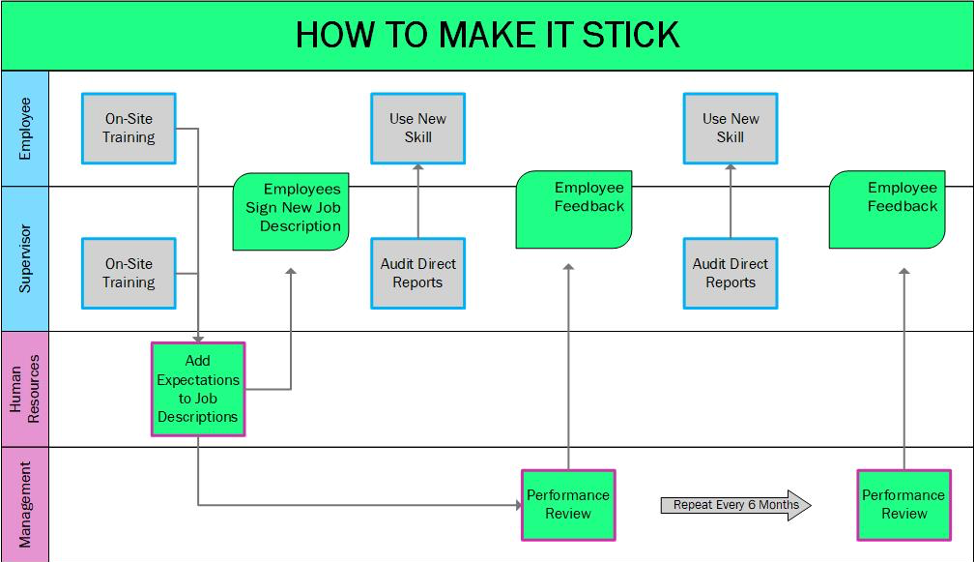 This is a guest blog post written by Rodney Nelson, Vice President of Client Operations for the Arizona Manufacturing Extension Partnership.

A Multi-Faceted Process Flowchart Approach

For the past four years, I have been supporting local Arizona manufacturing businesses providing them with a wide range of organizational development and training services. What I have found is that these businesses are looking for training they believe will help their teams and companies work more efficiently. Whether a company is choosing to do a single or numerous training and development sessions, the chance of that training sticking past the first two weeks is very slim.

How Can You 'Make It Stick'?
The "it" could be any type of change where employees are learning a new skill and are expected to use that skill going forward. Yes, we have all heard the saying, "you need management buy-in" but, unfortunately, that is not enough. Management's expectations need to be documented all the way down the chain of command and we need to hold both the workers and supervisors accountable.