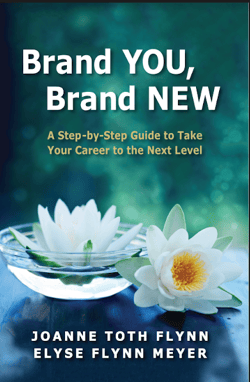 We are thrilled to announce the launch of Joanne Flynn's co-authored career development book, Brand YOU, Brand NEW, a Step-by-Step Guide to Take Your Career to the Next Level.📚

Joanne Toth Flynn and Elyse Flynn Meyer, a mother-daughter team, co-authored, Brand YOU, Brand NEW from a multigenerational perspective. Through their collaborative approach, they provide a range of universal perspectives to help you optimize your personal Brand YOU. This book takes you through the critical steps needed to proactively manage your brand and your personal development. The goal is to put you in the ultimate career control seat.

Have you ever asked yourself the following questions?
Do you feel like you are in career limbo, not moving forward as quickly or in the direction you would like?

Do you want to manage your career and take it to the next level on your own terms?

Do you need effective tools to help you manage your career development process?

Do you have a career strategy, and is it as robust as it should be? Do you proactively leverage your strengths and weaknesses to move your career forward?


If so, it's time to take your career into your own hands as you craft and redefine your personal Brand YOU, Brand NEW. The topics that are focused on in this book cover the following:

1. Brand YOU, Brand Who?
2. Assessing Your Strengths & Weaknesses to Understand Your Brand Attributes
3. Conducting Your Brand YOU Personal Career Gap Analysis
4. Breaking Through the Impasse Zone: Change, Threats, Blockers & Barriers
5. Interpersonal YOU: Personality Style Profiling for Exceptional Results
6. Communicate YOU: Communication Strategies for Success
7. Critical Think, Problem Solve & Decision Make Your Way to the Top
8. Leadership Traits to Advance Your Career


Questions about the book? You can email Joanne Flynn directly at jflynn@phoenixstrategicperformance.com. To purchase your copy of the book, simply click here, or the button below.