The Need for Business Acumen Is Critical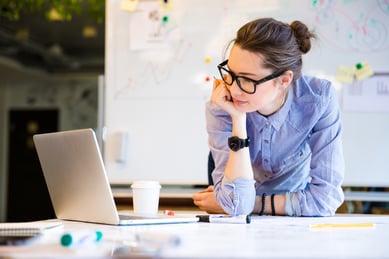 It's Time To Take the Business Acumen Leadership Challenge

Rate your employees on their business acumen. And you can't say that their job isn't important enough. Every employee, in every job, should understand the business of your business.

Your employees come to work every day. They sit at their desks or workstations and look busy. That's the way it should be, right? Has 'busyness' become the new performance metric?

The Case For Business Acumen – Thrive and Survive

Just because employees come to work and are busy, doesn't mean they really understand the 'business of your business'. This is no indictment of employees. As work has become more specialized and technical, employees are often judged by their functional skills alone. Accountants are judged for their accounting skills and technology employees for their knowledge of technology. That sounds reasonable, right? That might be fine in businesses that are not living in a hyper-competitive world. But if you think this is the current work environment, you are living in a time warp of denial.

The Case for High-Level Business Acumen

For businesses to survive and thrive today, organizations need employees who are not just doers, but thinkers. Business challenges are complex and driven by external pressures. How can businesses expect to remain competitive, if employees don't understand the business issues driving the business?

Today, all employees need to be outwardly focused and both internally and externally responsive. They need to understand and work within matrix organizations, where they have a deep understanding of other functional groups with whom they need to interact. Gone are the days of just coming to work and doing a job and leaving for the day. The need for employees to have high levels of business acumen has descended deep into the organization. Knowledge workers are delivering products and services that often have a direct impact on business viability. Customer-facing employees represent the company brand to the public and can directly impact company sustainability, value creation, and growth. Everyone today is operating at more sophisticated levels that require higher degrees of business acumen than ever before.

The Current Dilemma

In our transformative world of complex ambiguity, we know the following:
Competition is coming at us from everywhere – especially from the unexpected.

Barriers to entry are lower and impacting competitive advantage every day.

Employees are carrying heavy workloads resulting from a decade of headcount cuts.

Employees are working to put out today's fires with no time to figure out what is causing those fires in the first place, and how will those fires ultimately hurt the organization in the near and long term.

Stress is up and business resiliency and organizational agility are down.


So it's not surprising that employees come to work, put their heads down and get through their tasks with the hope to survive another day. There isn't the time or often the inclination for people to go beyond their functional work to ask the following broad business questions:
What impact does every part of my job have on:

Understanding the functional interdependences with other departments

Understanding how I can do things better that will positively impact the organization, both internally and externally

How will my efforts help?

Attract and retain customers

How can I help create a competitive advantage?

Who is the competition?

Where are we competitively vulnerable as an organization?

What external factors can positively or negatively impact this business?

What can I do to ensure the ongoing sustainability of the organization?

Every business lives and thrives in a broad macro context. These questions represent an intellectual curiosity needed to understand the 'business of the business'. Provide the Business Environment Where Business Acumen Can Flourish and Expect that All Employees Understand the Business Significance of their Work.


We invite you to learn more about how people, potential, and performance all translate into growth, profits, and sustainability for your company. See how you can engage your employees and ultimately have more satisfied clients and customers. Schedule a complimentary organizational benchmark assessment with our team. Learn how you can further motivate your people to their full potential to drive enhanced performance results that will bring your company to the next level.