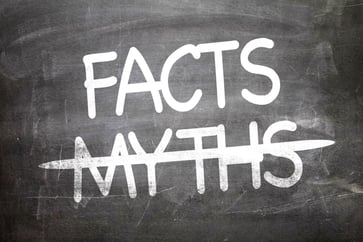 We all know, on an intellectual level, that the value of IT is critical to an organization's success. That's obvious and supported by extensive research. However, how IT, in reality lives, performs and produces in an organization often contradicts its critical need and limits its importance in the organization. It's time to sync IT into the fabric of the organization because the organization needs you. However, IT, you have a lot of work to do in your own functional area before this synchronization can happen. Below are 5 IT operating myths that must be debunked by IT:


The most important skills and knowledge in IT are Technical

: Technical skills are certainly the table stakes to work in IT, but as people progress within IT, many more organizational, transformation and leadership skills become equally important. As people move into Leadership and Senior Leadership Roles, research shows that these new skills become increasingly important, if not more important.



Technical people can and do easily move into leadership roles. I will promote my best technical person into the manager role

: Technical people may move into leadership roles, but that doesn't mean they actually perform the role of the leader. Again, research shows that the leadership competencies that are required for technical leadership roles are very, very different from technical skills and knowledge. IT organizations very often have the wrong people in leadership roles, creating organizational issues and stresses up and down the line and with the matrix constituents with whom IT works and interacts. In addition, there is a significant underinvestment in the leadership development training required to make technical leadership really good at their leadership roles and responsibilities.






IT is always treated like the organization's second-class citizen

: Today, there is a tremendous amount of C-Level and employee data around this topic. From a CEO and senior leadership perspective, there is a decline in the confidence of IT to accelerate business. IT is still viewed as a maintenance, operational role. Fewer CIOs have a seat at the strategic table and are intricately involved in strategic business decisions. When this occurs, sadly, IT is considered as an afterthought. From that perspective, IT becomes cost and overhead instead of a business partner and anticipator who can bring value-added insights to strategic decisions. And, at the most senior level, this is where the second-class citizen mentality begins creating a second-class cultural mentality. This issue MUST be fixed within IT first or nothing else will ever change.



High employee turnover in IT is normal. There is nothing that can be done about it

: The nature of an IT function does present certain challenges that some other functions may not have. However, good IT leadership should and must recognize these challenges and create structures and processes which anticipate the challenges. Turnover is an indicator of many issues. An understanding of the issues, their causes and the organizational consequences are necessary to ensure that the right processes and structures are working. In a changing work environment, these processes and structures will need to be continually monitored and changed when necessary to shift and realign with employee and employment demands.



The rest of the organization should understand how important IT is and how much value it can bring

: Let's turn that statement around to, "Let's show the rest of the organization how important IT is as a solution to their business outcomes." This is a paradigm shift. It means that IT will understand the business needs first and demonstrate that they can speak about IT in the language of the business, instead of in the language of IT. IT must learn to translate what they do to how it is going to benefit the goals of the business. To do that effectively, IT must display a high level of business acumen, very high communication, influencing and negotiating skills and understand the stakeholders and overall politics of the organization. So to be an effective IT professional, IT skills are required, but the softer leadership and professional skills must be used to market the IT message outside of IT. It starts by thinking of the business constituents first and IT second. You need to move into their space, not the other way around.


We challenge you to carefully consider your own IT operating biases, your IT group and the current level of skills and knowledge you and your people demonstrate to the business of IT and the business of the business.