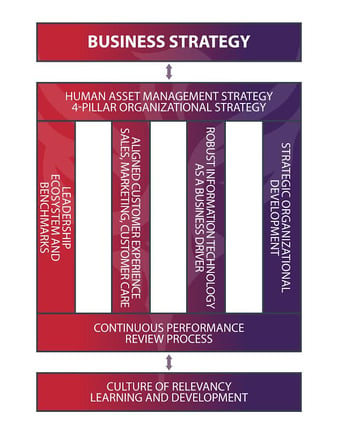 I'm often asked, "What's the difference between the concept of human capital and human asset management strategy?" When we discuss human capital, it is often described as:
the collective skills, knowledge, or other intangible assets of individuals that can be used to create economic value for the individuals, their employers, or their community.
a measure of the economic value of an employee's skill set. This measure builds on the basic production input of labor measure where all labor is thought to be equal.
Most definitions of human capital still focus on skills / people as they exist in an organization today. Human asset management strategy (HAMS) focuses on the following:
Conducts a current assessment of people and their skills today
Attaches a trending component to the assessment for today and tomorrow to determine appreciation or depreciation
Develops a human capital gap analysis between today and future human capital needs
Evaluates productivity and associated costs
Creates an organizational impact analysis for near-term, mid-term and long-term effects and risks
With the above measures in place, a robust human asset management strategy can then be used as a predictive tool that directly links business strategy with human capital strategy. Human asset management strategy lives in the C-Suite, since its impact is directly considered by the C-Suite when evaluating business strategy.


4 Pillars of Human Asset Management Strategy

Supporting a human asset management strategy, there must be the following four foundational pillars which are key business drivers anchoring the strategy:
Aligned and Frictionless Customer Experience: Involving highly-robust marketing, sales / business development and customer care functions

Robust Information Technology:

Partnering with the organization as a business driver
Leadership Ecosystem and Benchmarks: Driving the organization forward
Strategic Organizational Development: Implementing the human asset management strategy
The Cement and Glue of Human Asset Management Strategy
What embeds a human asset management strategy so it is knitted into the fiber of the organization? Two more structures need to be established to embed the process:
Cement:

Continuous Performance Review and Development Process to ensure human capital alignment

Glue:

Culture of Relevancy involving continuous learning and development at every level of the organization


What Does This Mean?
A robust human asset management strategy integrally links together all the above components. If you are missing any of these links, your human asset management strategy can be compromised and not functioning at the level necessary to deliver strategic human capital results to your organization.
We invite you to download our latest eBook: "Human Asset Management Strategy: A New Approach", which provides a multifunctional operational guide to human capital capacity planning. You can also schedule a complimentary assessment with a member of our team.