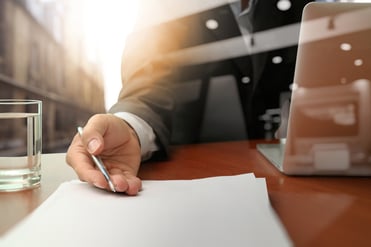 Recent surveys of business and IT executives find that IT performance increases across the board when CIO's are involved in shaping business strategy. The survey results show that IT leaders are increasingly taking action to market IT and develop objectives, strategies and metrics, to build and solidify relationships with their non-IT stakeholders. But are these efforts working?

On a scale of 1 – 5 with 1 being low and 5 being high, how would you rate the following statements?
My company provides cost-effective services.
My company delivers projects on time and on budget.
My IT organization is innovative.
My C Suite, business management and their staffs have a poor perception of IT.

Recent research has identified that few corporate executives state that their IT leaders are closely involved in shaping the company's strategic agenda. The result is that confidence in IT's ability to support growth and other strategic business objectives is waning. And this is at at time when IT is considered critical to key business initiatives. IT leaders struggle with this issue and continue the journey toward more effectively marketing IT to their business constituents. The following exhibit is a framework for marketing the IT organization.

Staying ahead of the pack requires that you market and translate your organization's strategy into basic, day-to-day initiatives. IT executives must realize how critical marketing IT has become. Only then will IT boost the value and perception of IT into the enterprise operations.

Questions?
Would you agree that IT initiatives should focus on areas that ensure your IT strategy is well-founded?
How do you currently identify critical gaps in your strategic execution processes?

If these are issues your organization faces, we invite you to register and secure your spot for our upcoming lunch and learn, "Future Proof' Your IT Organization, or visit mapping-it.com for more information.

Guest Blog Contributor:
Fred Mapp has 40 years of corporate leadership experience in executive positions at IBM, American Express, Honeywell, AMD and various other Fortune 500 companies. During this timeframe, Fred developed & refined business and growth processes and IT transformations. He developed the Seven-Initiative Framework© accelerating organizations to success by leveraging technology for growth, competitive advantage, innovation and market dominance.