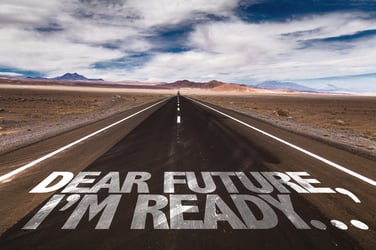 Human Asset Management Strategy (HAMS)© demands a robust and continuous performance review process focused on employee development. You can't have one without the other.

According to the Harvard Business Review, one third of U.S. companies are revising traditional appraisal processes. Since change is revolutionizing the way we work, it's time to focus on a continuous performance review process, where robust, two-way feedback is frequent.

Forces Disrupting Traditional Performance Review Processes
Today's work reality is challenged by multiple and constant disruptors that are putting pressure on organizations and their foundational structures, processes and people. For the near term, one thing is certain, these disruptors are not going away. They are our new normal. We must account for these disruptors as we look at our human assets and how we manage them and their responses / reactions to these disruptors. The following are some main disruptors:

Millennials make up more than half the workforce and Boomers are working into their 70's and 80's.
Digital technology is everywhere, disrupting business models, changing both the workplace and how work is done.
Rate of change has accelerated.
Continuous employee review processes must become more flexible, employee-centric and aligned with the rapid pace of change.
Younger workers demand rapid career growth and flexible workplaces.

Where Has the Increased Productivity Gone?
According to the Bureau of Labor Statistics, business productivity has not kept up with technology. If the old performance reviews were effective, productivity should have increased dramatically over time. This, however, is not the case. If these cumbersome performance review processes are not working to increase productivity, what good are they? It's time to rethink what we are doing with performance reviews, how we are doing them and if the intended outcomes are being achieved. According to the Bureau of Labor Statistics, here is an assessment of the old performance review processes in the new world of work:

Organizations are not getting more outcome per hour worked.
Employees are working more and getting less work done.
Employees are overwhelmed by technology.
Productivity must go up. Employee engagement is flat.
We have shifted to a service economy where skills do matter and people are your product.
Jobs are shifting to skills which are essentially human, like creative, team and service jobs.
Future jobs are collaborative and human intensive, but how do you measure these skills?
Employees are now operating as networks of networks with people working in cross-functional, collaborative teams.
Teams and people are working multi-functionally.

The New Work Reality
Align your organization's current work environment with a relevant and aligned continuous employee review process designed to mirror, reinforce and keep pace with your organization's business strategy.
We invite you to download our latest eBook: "Human Asset Management Strategy: A New Approach", which provides a multifunctional operational guide to human capital capacity planning. You can also schedule a complimentary assessment with a member of our team.