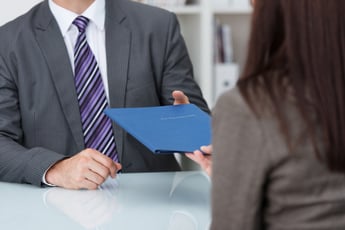 Job descriptions are the unsung hero driving the Performance Management process. If the performance management process is fundamental to your Human Asset Management Strategy (HAMS), then job descriptions are the mighty little, obscure engine driving the whole process.
How important are job descriptions in HAMS, and how can those often forgotten job descriptions be so important? Because if they are only used as HR tools for job branding and compensation, then they are misnamed. If that's the case, they should be called job categories. Here's what job descriptions should really be doing for your organization.

First, determine the function in your organization that is responsible for utilizing job descriptions.
What is the real, dynamic driving force behind our friend, the job description? To analyze this, we start with where job descriptions are parked. Job descriptions can live in HR, but that should only be their part-time home. Job descriptions should and be relevant to every functional group in every organization and be used by the functional group, full time! ! Job descriptions are the foundation to determine what a job does, how an organization works, how it grows, if it can grow / compete, and / or if it will stagnate. Most importantly, job descriptions must not only live in the operating functions, job descriptions need to be relevant and referenced continuously. As a consultant, I have frequently heard these answers to the question, "Can I see your job descriptions?":
We don't have any.
We have them but haven't really reviewed them in 5, 10, X number of years.
We have some but we don't have all of them.
We have them but they don't reflect what people really do.
We have them, but they don't reflect what people really do and we only use them for job banding or determining raises.
We only look at them when someone threatens to quit.
We only look at them when we need to take disciplinary action.
HR makes us do them, but they aren't worth the paper they're printed on – I don't know why we have them or why we use them.
As you can see, there are a full range of responses about the misuse, abuse and / or neglect of the poor job description. Sadly, job descriptions have become another stale and sterile process, not adding much to the organization at all. Inside every functional part of the organization, here's what real, dynamic, robust multi-dimensional job descriptions should look like.

1. General description of the job with a functional title that truly captures the principle functions of the role and what the role should accomplish
The title Associate, Generalist or Accountant 1 says nothing about the job. It is a job category or band and is useless to a job description. When did we become too afraid to give a job the right title? No wonder why there is so much confusion in organizations. We start with ambiguous job titles.

2. Specific job responsibilities (you can't get too specific)
It is in this specificity that you can truly understand what the job does. I have seen many job descriptions, including one of my own, which was not worth reading because it didn't say anything worthwhile. It was unrecognizable relative to the real job I had. If you have job descriptions like that, check with HR to find out why they are doing that. There will be many different reasons for it that I can't begin to guess. Within job descriptions, be sure to capture the following job categories:


Routine (core) responsibilities:

Current
Anticipated and moving into the future

Non-routine responsibilities:

Current
Anticipated and moving into the future

3. Key interactions and relationships
As organizations become flat, matrixed and collaborative, people are not only responsible for what they do, but for developing key relationships both within the group and intergroup. These relationships are often critical to a person's success in the role. Job descriptions need to recognize the importance of these interactions.

4. Qualifications - Key organizational culture skills, business and soft skills, knowledge, and experience required to do the job
Organizations have many people, but are the right people in the right role with the right current skills and knowledge at the right time? Here is where organizations go 'off the rails' using the convenient but misused 'plug and play' strategy. You can only 'plug and play' if you have the right employees – not just a warm body. Thinking that people can or will 'just grow into the role' is a huge assumption that can get organizations into trouble. While 'plug and play' may be convenient, it's not right for the company and certainly not fair or right for the employee.

5. How the role works in the organization
The earlier categories describe what the job does, this category describes how the job gets done, setting the expectations of how the work gets done and the cultural norms that must be observed regarding how the work gets done.

6. Job description review timeframe
Since the marketplace, organizations and work are changing so rapidly, today's job descriptions have obsolescence built into them. Today's knowledge and skills have a shelf life of 2 – 2.5 years. As often as work changes, job descriptions must be reviewed so they stay aligned with operations making them current, relevant, robust and future focused.



A step closer to a Human Asset Management Strategy (HAMS)
As you and your organization work through the performance review process, you should consider reviewing, updating and aligning your job descriptions with your real world of work. Performance reviews should always be done relative to the job description. After all, what else would you or should you be reviewing against? People's performance, when measured against the job description, will give you an accurate and objective understanding of how people are performing against the ideal role benchmark. You can then conduct a relevant gap analysis, and determine the development actions needed to ensure that people remain the relevant and appreciating human assets we need in today's organizations. The robust job description becomes the benchmark of a good, healthy and robust performance review process and will bring you a step closer to having a Human Asset Management Strategy. Not bad for our unsung hero, the little job description! job


We invite you to download our latest eBook: "Human Asset Management Strategy: A New Approach", which provides a multifunctional operational guide to human capital capacity planning. You can also schedule a complimentary assessment with a member of our team.