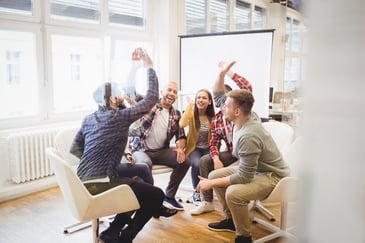 Do you need business language data to secure your HR people development budget?
In today's business environment:
65% of Chief Executives believe they lack the information they need to increase return on their investment in human capital.
Less than 30% of what is taught is transferred to the job in a way that enhances performance and business results.
Learning and Development Questions to Consider:
In your organisation, is the time and effort committed to people development, in reality, being transferred into work performance?

Is the desired learning assessed and evaluated to ensure it is applied to work performance, so a return on investment is calculated?
Are Human Resources departments developing and designing targeted and relevant people development that will enhance HR's position as true business partners?

Is your organisation at the 'Business Now' category or moving toward 'Business Future'? Here are some questions to think about when discovering where your organisation is in the journey.
Is your organisation capable of responding with agility to the changing business environment?
Is your organisation confident that your business strategy is being introduced with speed, understanding and commitment?
Is your organisation investing a large amount of resources in delivering a change process and do you evaluate whether the investment has been realised?
Does your organisation want to have data confirming that your business strategy is being implemented by your people?
Does your organisation want to accelerate the impact of a learning programme towards the delivery of your business strategy and a change culture?
Do you want to know that people have changed their behaviour and increased their level of performance?
Are you designing new learning programmes and want them to be beyond leading edge to hit business performance? Are you evaluating the adhesion of an existing learning programme?
Do you have any or all of the following as part of your learning and development approach and analysis?
A simple 10-stage process which holistically integrates the entire learning cycle
A system built on best practice in learning transfer
A simple process that takes 10 minutes to complete for each stage and takes line managers through the basics of people development
A process from a learning needs analysis, through an engaging process which assesses the applicability, relevance and appropriateness of a learning intervention
An easy way to assess the transfer of learning into work performance and the key support areas that require enabling
Stakeholders who are involved and engaged in the learning process to ensure learning transfer is supported
Best practices that:
Accelerates learning adhesion into work performance
Calculates a pre and post test improvement in performance and provides hard data to evaluate performance impact and adhesion
Partners individual and organisational action plans to ensure learning adhesion
Calculates a return on investment
We invite you to learn more about how people, potential and performance all translate into profits for your company. In addition to profits for your company, see how you can engage your employees and ultimately have more satisfied clients. Schedule a complimentary organizational benchmark assessment with our team to learn how you can further motivate your people to their full potential to drive enhance performance results to bring your company to the next level.
Guest Blog Contributors:
Mike Smith is Director, Learning Transfer Solutions Global. He is passionate about ensuring that individuals become empowered achievers, HR has a strategic role in executive teams, and that businesses gain alignment and fast execution of their business strategies. His current company, LTS­Global, is dedicated to giving companies, trainers and consultants help to enable them to activate new learning. He can be reached at mike.smith@ltsglobal.com

Carolyn Dare is a Partner with Learning Transfer Solutions Global, a consulting firm that works in a systemic way to lead and anchor large scale change, transformation and performance enhancement initiatives in organisations. She is an accomplished virtual community designer, online facilitator, and website/online simulation developer. She can be reached at carolyn.dare@ltsglobal.com