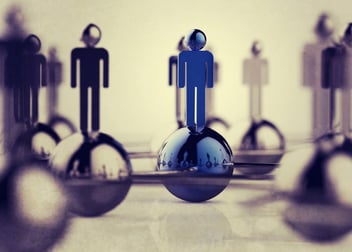 If you are truly thinking about creating a robust Human Asset Management Strategy, then the concept of headcount/cost cutting done in the name of rightsizing represents polar opposite approaches to people as an asset.

Why?

When we talk about headcount, we are looking at a static numbers game at best, and a leadership and organizational 'cop out', at worst. Have you ever worked for a company that reduced headcount by 10%? We've all been there. Here are a few scenarios that happen in organizations all the time when we embark on the headcount/cost cutting game:


Scenario 1 - The highly-accepted but strategically-flawed LIFO test – last in, first out.
We somehow justify that longevity is a rational basis to keep people. That process is most often used by people who have longevity in the organization. These people, themselves may be past their human asset 'sell-by date'.
Risk Impact: LIFO may be the worst way of dealing with headcount issues. What does the LIFO accounting concept have to do with a dynamic, evolving long-term human asset management strategy?


Scenario 2 - The lowest level employees are the first to go.
What does that accomplish? From a cost perspective – not much. But it does tick the 'cut the headcount box'.
Risk Impact: What happens if the lowest level employees are the 'bench' you are bringing in to develop into high potential employees. You have just introduced a gap in your mid – long term human asset management strategy that could take years to close – or, in some cases, given the current talent deficit – may cost your business viability and sustainability.


Scenario 3 - Organizational Politics - Beware of those with no sponsor/mentor.
Employees who stay are 'politically' connected in the organization. Someone at the senior/executive level is looking out for them.
Risk Impact: That's fine if the employee is also a high-performing, contributing member of the organization. However, when a poor to average employee stays and a high-performing but politically-neglected employee is sacrificed in the name of 'headcount cutting', there is no end to the potential fairness and legal issues looming ahead.

Scenario 4 - Let's play the contractor game.
In anticipation of headcount cutting, we can cleverly hire contractors and use them like elastic resources. When it's headcount cutting time, we can claim they are really like employees and effortlessly cut them to justify both headcount and cost cutting.
Risk Impact: If your human asset management strategy resorts to contractors as your safety net, are you really managing your human assets strategically and for organizational sustainability, or are you just really engaging in short-term 'plug and play'? What is the real cost to the organization, when your contractors walk out the door – with no loyalty at all.

The Risk Management Impact and Consequences
This leads us to the final question that no one wants to own, "Who is going to do all the work"?


With headcount slashing, typically 100% of the work still needs to be done, with the remaining 90% of the staff to do it. As an operating premise, that's scary enough. Now let's talk about overworking and depleting the remaining staff from a human asset strategy perspective? What does this do for your long-term strategic initiatives? Not much!


Then, if we engage in any of the above headcount/cost cutting/rightsizing initiatives, imagine the catastrophic, long-term organizational risk consequences. From a shareholder/investor perspective, any of these initiatives can be borderline management malfeasance.

Remember Newton's Third Law and execute your human asset management strategy carefully! For every human asset action you take today, there is an equal and opposite reaction in the form of consequences you must own tomorrow. It's time to evaluate employees from an asset management and investment lens rather than a headcount and near-term cost perspective.

We invite you to download our latest "Human Asset Management Strategy" Checklist, which highlights the criteria needed to evaluate the human asset management strategy of your organization, or you can also schedule a complimentary assessment with a member of our team.