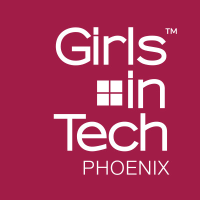 Last week, I had the pleasure of attending the launch event for Girls in Tech Phoenix. Girls in Tech, started in San Francisco in 2007, is an international organization focused on the empowerment, entrepreneurship, engagement, and education of women in technology. It has more than 50 chapters located in North America, Asia, The Middle East, Africa and South America. The Girls in Tech mission provides the following opportunities for women and girls:
Education:

Facilitating learning and skillbuilding through advanced curriculum and programming within the STEM fields

Engagement:

Utilizing the power of technology to bring women together to shape their future and democratize the world

Empowerment:

Increasing the technical and entrepreneurial capacity to inspire women to innovate, share wisdom, and have a voice within the industry
Given that this was the first gathering of the Girls in Tech Phoenix group, we did not know what to expect. I am thrilled to report that the turnout was hugely impressive with both women and men attending. The attendees ranged from young girls to seasoned professionals working both in the tech space or supporting the tech space. The size of the group became apparent when we all moved into the theater space of the Arizona Science Center – who donated their space for this event. The 280-seat theater was filled to capacity, with standing room only.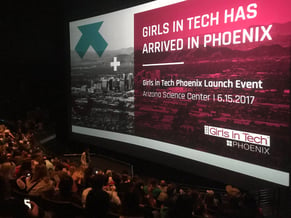 The main event was a special screening of the film, "She Started It", which chronicles the journey of two young entrepreneurial women making their way through the tech startup process. "She Started It" explores the cultural roots of female underrepresentation in entrepreneurship—including pervasive self-doubt, fear of failure, and risk aversion among young women. It also exposes the structural realities women face as they become entrepreneurs, including lack of female role models and investors, and the persistent dearth of venture capital funding made available to women-led companies. The film has a profound message and resonated with people on many levels. The screening of this film really helped bring everyone together for one unique goal of Girls in Tech Phoenix to accelerate the growth of innovative women entering into the high-tech industry and building startups.
I'm excited about this event because up until now, Phoenix hasn't had a hub of support for women in technology. There has been a strong startup community and tech community, but nothing truly dedicated to women and girls getting into tech, and the training and support they need to address their unique issues. This event succeeded in raising awareness about the hurdles women continue to face in the tech space. Women need to be prepared for these hurdles so they can anticipate them, face them and power through them. Women also need to know that they are not alone in their individual journeys and the support structure provided by Girls in Tech will be a powerful ecosystem for them.
In addition, my daughter, Elyse Flynn Meyer, Founder of Prism Global Marketing Solutions, was a sponsor of this event, as well.
"We are honored to be involved with Girls in Tech Phoenix and the launch event to support such a wonderful organization helping young women in our community understand and expand their potential as future leaders in technology. As a female business owner, I see the challenges women face as they consider and venture into entrepreneurship. It's critical to have organizations like Girls in Tech supporting, educating and empowering women from the classroom through their professional careers," says Elyse Flynn Meyer.
If you're interested, I recently co-authored the book, "The Female Factor: A Confidence Guide for Women." My 3-part chapter of the book entitled, "Spanning Generations as We Journey Ahead," focuses on the issues of women in the workforce over the past 50 years, looking at what has changed, what has not, and what women can do to move their careers forward. Download your complimentary chapter of the book.