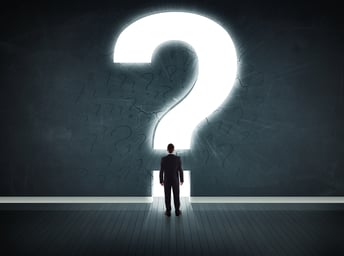 This is the sixth blog in our Sales & Business Development series. In case you missed the other blogs, you can view them here.

The Essentials
Questions are the most important tool in your sales toolkit. Never underestimate the importance of questions. They help you navigate through conversations and maximize the information gathering opportunity. Asking great questions requires mental preparation, mental agility and precise communication skills. Before you can ask great questions, you need to think of the question's purpose.
Why are you asking the questions?

What is the best question to use?

Exactly what do you want to gain with this question?

Who are you asking?

What is their perspective? What are their goals? What are their issues, challenges and/or problems?

How can you phrase your questions for maximum advantage?

Asking the Question


You have the power to control the kind of information you gather by the kind of questions you ask.

Once you have identified your purpose and come up with the most appropriate questions, the next step is to ask the question.


Questions Fall Into Two Categories: Open & Closed

Open Questions
Open questions allow the other person to answer from their perspective. Open questions are other focused and require excellent listening. The result is broad and deep, other-oriented information. Open questions become your tool to make people feel comfortable and establish rapport. They are the basis for relationship building. They allow you to understand people based on their key issues, creating common ground and a needs-based relationship.
Closed Questions
Closed questions narrow the universe according to your perspective, not theirs. In addition, closed questions typically also narrow the response. By their nature, closed questions have a limited response universe. They also take more brainpower to create and ask.


Delivery - Frame your questions carefully. Be careful not to bury the question in a stream of other words. Don't ask a closed question because it's easy or comfortable for you, but wrong for the kind of information you need. Let the client know you expect an answer. Pause and wait for a response, and let the client know you are interested.

Listening - A question is useless if you don't listen carefully to the response. Great listening requires focused concentration and mental effort. We also fail to listen when we feel an urgency to express ourselves.

Evaluation - As you listen, you need to evaluate the answer. Recognize you may need to ask more questions before you get all the information you need. Use an open, clarifying question to make sure you have the details straight or open questions to get deeper into the heart of the issue or to discover any hidden resistance. Ask questions that delve progressively deeper into the issues.

To better understand how to ask great questions, I invite you to learn more about our Sales & Business Development program as part of the Phoenix Strategic Performance Institute. This program helps you to strategically align your sales process to accelerate the relationship sales process, creating corporate growth and building strategic value.