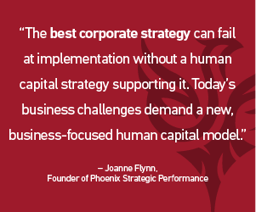 If you say people are your most important asset, it may be time to rethink what that really means to your organization. How do your current human assets perform relative to your organization's requirements for growth, competitive positioning, transformation and business agility - the ability to deploy human assets on demand? All these strategic business issues require complex, future-focused approaches that replace outdated, underperforming methods.

If the measure of success for every company is the realization of maximum business value based on value creation, then every human asset should be a value creator.


The Challenge:
Replace short-term, cost-center focused people strategies with a well-considered, long-term, human asset management strategy. If people are assets, they must be treated like any other organizational asset.

Human Asset Management Questions to Consider:
In today's ever changing work environment, here are some questions to consider:
Are your people value creators or value sustainers?
In today's constantly changing environment, are your Human Assets appreciating or depreciating?
To maintain human asset appreciation, are you investing in the ongoing development of your people?

If not, what are the risks and consequences?
If your people are depreciating, what are you doing to revitalize them?

If nothing, what are the risks and consequences?
What's the real cost of not investing in people given their impact on:

Strategic goals and competitive advantage?
ROI and the cost of underperformance?
Human Asset risk management and consequence analysis?
Organizational agility & resiliency?
Is your organization designed and structured to meet tomorrow's challenges?
Would you rehire your current team of people?
Do your current performance management processes define future-focused, strategically-benchmarked roles and assess for sustainable peak performance productivity metrics?

In our Human Asset Management Series, we will be developing each of these topics regarding both the strategic and tactical issues as we optimize for 2017.

We invite you to download our latest "Managing Human Capital Risk" checklist, which highlights critical human capital issues for your organization, or you can also schedule a complimentary assessment with a member of our team.