This is a guest blog post written by Rodney Nelson, Vice President of Client Operations for the Arizona Manufacturing Extension Partnership.

A Multi-Faceted Process Flowchart Approach

For the past four years, I have been supporting local Arizona manufacturing businesses, providing them with a wide range of organizational development and training services. What I have found is that these businesses are looking for training they believe will help their teams and companies work more efficiently. Whether a company is choosing to do a single or numerous training and development sessions, the chance of that training sticking past the first two weeks is very slim.

How Can You 'Make It Stick'?
The "it" could be any type of change where employees are learning a new skill and are expected to use that skill going forward. Yes, we have all heard the saying, "you need management buy-in" but, unfortunately, that is not enough. Management's expectations need to be documented all the way down the chain of command, and we need to hold both the workers and supervisors accountable.

The Role of the Job Description
Simply put, you need to get these expectations into the employee's job descriptions. The job description is the foundation to holding employees accountable. This is so important, yet so simple. The hardest part isn't having your employees learn the new skill, but getting your employees to actually use that skill. So how do you make that happen? In your job descriptions, you need to document the expectation that your employees use the new skills and document that your supervisors hold their direct reports accountable. Have your employees sign their new job descriptions to cement in their minds that this expectation is here to stay. A job description without a signature does not demonstrate that the employee acknowledges they have both read and accepted the tasks in the job description. This is a critical step needed to finally use these new job descriptions for bi-annual employee reviews. Now you can ensure that both training and application will 'Make It Stick'!

What's the Glue to 'Make It Stick'?
From those job descriptions and performance reviews, set up a monitored development plan for each employee. This development plan is the glue that makes it stick. As the leadership team, you must have a robust monitoring process that makes not only the employee accountable for learning and applying new skills but makes the supervisor/manager accountable to make sure this happens! It's the mechanism that locks the process in place. With the development process in place, you can look at your organization's development plans from a broad, macro perspective or a very granular, individual employee view.
Pro Tip: Regularly updated job descriptions can be used for performance reviews, employee development, and job postings.

The Swim Lane Flow Chart
In the below Swim Lane Flow Chart, you can see how the 'Make It Stick' process works to embed your employee's newly learned skills into your business culture:
New expectations are incorporated into the job descriptions
Employee signs off on new expectations
Supervisor audits ensure expectations are being met
Regular performance reviews keep the process moving forward in the future, embedding your employees' newly-learned skills into your business culture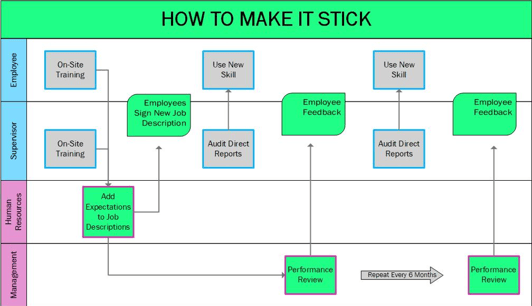 Click here to view a larger image of the chart

As you can see, 'Making It Stick' is a multifaceted process that requires the following:
Training
Relevant Job Descriptions
Performance Reviews
Monitored Individual Development Plans


Is it time for your organization to review its existing processes? If so, then it may be time for a completely aligned HR Audit to ensure that all your processes are seamlessly working. So let's 'Make It Stick'!
What critical organizational issues should you consider as you optimize the process of managing human capital? Download our Human Capital Checklist, which highlights the critical issues for your organization to evaluate regularly. You can also schedule a complimentary assessment with a member of our team.